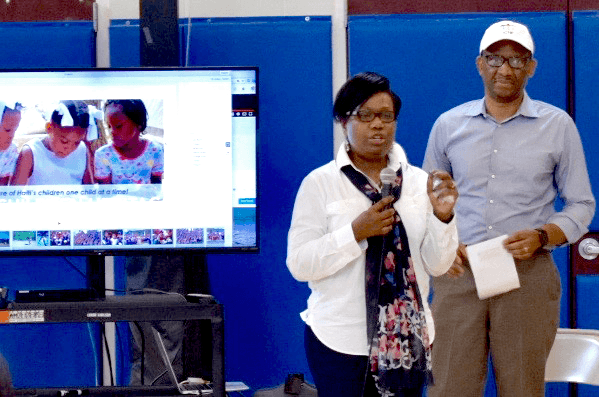 Jose & Bernie Pierre
As co-chairs, Jose and Bernadette Pierre shape program strategies, review results, advocate for foundation's projects and issues, and help set the overall direction of the organization. They meet with local and Haiti partners and alliances to further the foundation's goal to help improve the lives of Haiti's children through education. Both also use public forums, interviews and speeches to help focus attention on this objective. Jose and Bernie are of Haitian descent. Bernie studied Business Administration at Fordham University and has held various corporate positions in the Insurance sector as a Pension Actuary and in 2010 completed certifications in Financial Planning. In 1987, having distinguished herself in business as a leader in the Pension field, Bernie retired from her corporate activities to dedicate her energy on raising her children. In addition to her role with the foundation, CFO for Marketware International, Inc. and as a mom, she remains an active participant in her church. She is a former member of the Board of Advisors of Monmouth Worship Center and Love Inc in New Jersey.
Jose is the founder and CEO of Marketware International Inc., he leads a firm that provides strategic consulting to top-tier multinational financial institutions and their vendors as well as turnkey solutions for global trading and portfolio management. Jose founded Marketware International in 1995, based on a vision of developing technology platforms for secure, cost effective, high volume online trading and portfolio management. By 1997, TD Waterhouse, Royal Bank of Canada, CIBC and other top-tier North American firms were clients. In 1999, TD Waterhouse acquired Marketware and Mr. Pierre became EVP for International Technology for the TD Waterhouse Group world-wide, directed the development and delivery of high volume, local securities trading platforms throughout Europe and Asia. By 2002, Mr. Pierre had re-acquired Marketware, this time to leverage experience, software, alliances and relationships to deliver innovative, cost-effective access to world markets.
Mr. Pierre is a regular speaker at Industry conferences and contributor to Industry committees and summits on the use of ICT in Education and technology and thought leadership in the Wealth Management/Financial Services sector. Mr. Pierre is a graduate of St Vincent De Paul in Brittany, France and, Information Systems at Pace University and, NYU.
Bernie and Jose live in New Jersey, USA. They have two children.
Be a Champion, Get Involved.
One of the most important decisions anyone can make is to live a compassionate life, to inspire others and to seek opportunities to care about people and their needs. Be a Champion for a needy child today and change another's life for ever.
Join Us