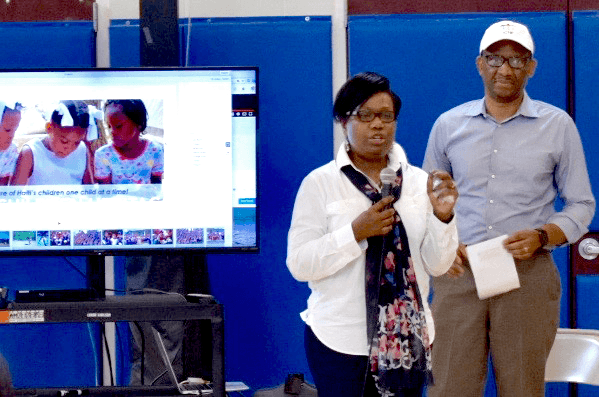 A Note From Our Founders
In a post Earthquake Haiti; we believe that a focus on Education is the best gift we can give to the children and young adults. Haiti's greatest resource is its young generation. We are determined to lend a hand to help them rise out of poverty, not through charity but, through education. Esther Dufflo, co-author of "Poor economics: A radical Rethinking of the Way to Fight Global Poverty" agrees. When asked by Knowledge@Wharton what are some of the crucial steps to eliminating poverty, she stated: "According to our current state of knowledge, there is a zone of shadow where we are not sure exactly what to do. But there are some things we do know that work across sectors. Educating children, for example, is one of them --" In 1804, Haiti became a nation; against all odds, today, a new generation of young Haitians face a different challenge one that can best be addressed through a solid education and the creation of local jobs for new professionals. Haiti needs its young people at home and as long as they can learn new skills and, new jobs can be created to match these skils then Haiti will be transformed. We pray for such a transformation and believe it can occur. The journey is arduous but if we remain steadfast in our resolve and with God's help, we know that it is possible.
Our job is to also make sure we are using our resources, your donations, the expertise of our coordinators in Haiti, and the voices of our partners to the utmost, so that we can have the maximum possible impact on people's lives. The next few years offer a historic opportunity to have an impact on the education and welfare of some of the children and youth in Haiti. Even in the face of very tough economic times across the globe, we are optimistic about all that we can accomplish together with our partners. Through the Tuition Assistance Program, we help parents provide elementary level education for their children thereby improve the literacy rates. The Digital Literacy Program will add 21st century skills to the education of elementary school children at the Flore School. We also look forward to the Information Technology Program class graduates performing as IT Professionals in the marketplace in Haiti.
To achieve these goals require continued support from corporations and individuals alike. Our sincere thanks go to the corporations who have already shared our vision: McGraw Hill, Microsoft, Pearson, Cengage and Qualcomm. We are very grateful for tCHF's board members and supporters who continue to give of themselves to make a difference in the lives of the youth and children in Haiti. We are encouraged by your partnership and thank God for each of you.
Regards,
Jose and Bernadette Pierre
Be a Champion, Get Involved.
One of the most important decisions anyone can make is to live a compassionate life, to inspire others and to seek opportunities to care about people and their needs. Be a Champion for a needy child today and change another's life for ever.
Join Us